What is UN Approved Packaging?
United Nations (UN) Approved Packaging is packaging which has been designed, tested and certified to enable the safe transportation of Dangerous Goods via road, sea, rail or air.
Why do we need UN Approved Packaging?
Dangerous goods are articles or substances which are capable of posing a hazard to health, safety of people or animals, property or the environment. UN approved packaging is designed to enable the safe transportation of such dangerous goods. Its intention is to prevent and subsequently contain a leak or exposure should the substance/article or the packaging become compromised during transportation. For example, should a package containing dangerous goods fall from a shelf or wagon, the substance or article inside remains safe or contained within the package.
As well as using UN approved packaging to mitigate risk to people, animals and the environment, it also means with its usage comes the proper declaration of the dangerous goods by the shipper, this ensures that all involved in the transportation chain know exactly what they are transporting, how to handle them and what to do should an incident or accident occur.
What does it look like?
UN approved packaging can come in various forms, materials and sizes. Packaging types include, drums, jerricans, boxes, bags and composite packaging. The packaging material is wide ranging, some examples include, fibreboard, plywood, steel, plastic and aluminium but there are many more.
Generally, UN approved packaging tends be referred to as either combination packaging or single packaging. Combination packaging is basically an UN Approved Outer packaging and within that outer packaging would be the inner receptacles or inner packaging, as well as any absorbent or cushioning material to protect the inner(s) containing the dangerous article or substance. An example of this would be a fibreboard outer box containing glass bottle inners, within the inners would be the dangerous goods. UN Approved Single packaging is packaging that does not require any inner packaging in order to perform their containment function during transport, here an example would be a steel drum directly containing the dangerous goods.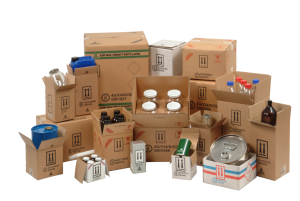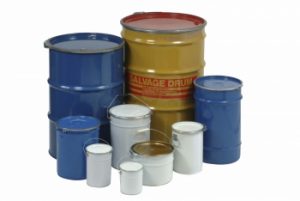 Why is it different from everyday packaging?
Dangerous goods packaging differs considerably to everyday packaging, such as household containers used to store and transport. Higher specification materials are used to create UN approved packaging, the material and the packaging design needs to be robust enough to withstand the knocks and bumps that can occur when in transport, providing extra protection to the contents to limit the likelihood of leakage and potential harm to the external environment. All UN approved packaging are subject to packaging specifications and tests stipulated in the relevant transport regulations to ensure the packaging is capable of withstanding normal conditions of transport.
How do we know it's fit for purpose?
In order for a package design to become UN Approved the packaging itself has to pass rigorous tests specified in the relevant DG regulations. The manufacturer designing the packaging must adhere to strict guidelines regarding packaging specification and ensure the packaging passes a number of tests to prove it is capable of withstanding normal conditions of transport. The designed package is then sent to an independent testing company, provided that it successfully passes the tests, it is then sent to the relevant state approval authority for verification and approval and then assigned a UN Specification Mark. The package design is now classed as UN Approved and can now be manufactured and sold to consumers with the specific use of transporting dangerous goods.
What is a UN Specification Mark?
A UN specification mark is made up of numbers and letters, directly following a 'UN' logo. The example below is of a UN mark that would be displayed on an UN approved fibreboard box – known as a 4G package.
How to read UN markings
The image below breaks down UN identification code for a 4G fibreboard box.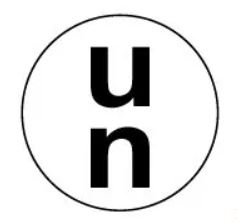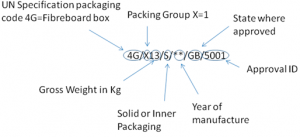 What are Packing Groups?
Packing groups provide an indication to the level of danger the dangerous goods, substance or article poses.
Packing Group I (X) represents high danger
Packing Group II (Y) represents medium danger
Packing Group III (Z) represents low danger
 Can I, Can't I?
It is a legal requirement to package dangerous goods according to the relevant transport regulation, 'relevant' meaning if you are transporting your goods via air travel then you must consult International Civil Aviation Organisation (ICAO)/International Air Transport Association (IATA) and adhere to their regulations, however if your goods have arrived at or are collected from the airport on a wagon then you also need to adhere to European Agreement concerning the International Carriage of Dangerous Goods by Road (ADR) as part of the transport journey includes road. Transporting Dangerous Goods can be complicated, there is often misconceptions surrounding less common regulations that often result in hidden, undeclared and incorrectly packaged dangerous goods.
It is the shipper's responsibility to ensure that the dangerous goods are packaged, marked and labelled correctly in line with the regulations relevant for the mode of transport they are using e.g. ICAO/IATA, ADR, Regulations concerning the International Carriage of Dangerous Goods by Rail (RID) and the International Maritime Dangerous Goods Code (IMDG).
If you require any assistance choosing the right packaging for your dangerous substance or article, get in touch, our trained advisors are here to help. 
Visit our Outer Packaging Page 
Visit our Single Packaging Page 
Information correct at time of publishing, 7th June 2021