The VCA Dangerous Goods Seminar, in it's 33rd year, took place earlier this month. The annual event, organised by the Vehicle Certification Agency, facilitates discussion amongst dangerous goods professionals and regulatory updates from key figures within the DG community.
Topics throughout the day included the industry perspective on road enforcement, lithium batteries and dangerous goods regulations for air, road and sea.
Another year, another Air Sea Challenge!
Alongside the formal sessions throughout the event, Air Sea continued in tradition with our seminar activities, including the return of the prestigious Air Sea Challenge!
The aim of the game is to answer the most questions about dangerous goods correctly in the shortest amount of time. The winner at the end of the event walks away with the coveted Air Sea Challenge trophy, a bottle of bubbly and those priceless bragging rights!
Congratulations to this years' winner – Karene Johnson, pictured below being presented with this years' trophy by Keith White, VCA.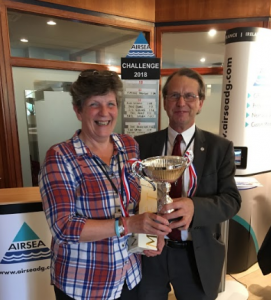 And a big well done to Clare Grootendorst, who won a £150 Virgin Experience Days voucher by risking it all in our wheel of fortune game. Clare opted to donate her prize into a work raffle, with proceeds being donated to the University Hospitals Morecambe Bay NHS Foundation Trust hospital – a very admirable gesture! Clare is pictured below, presented with her voucher by Kevin Dougherty, Director of Operations Worldwide, Air Sea UK.