The Speciality & Agro Chemicals America event takes place June 20-22, 2023. Air Sea USA will be exhibiting @ stand 111, showcasing their Hazardous Goods Packaging range.
Air Sea USA provides fully certified UN approved packaging to shippers for the transport of Hazardous Goods. Packaging is compliant with air, sea and road regulations, and have undergone the required performance tests as outlined in UN model regulations.
During the 3 days, Air Sea USA will be on hand to provide guidance on your hazmat packaging requirements.  If you are a shipper of hazardous goods, adhesives, lithium batteries, fuels, corrosives, flammable liquids, pharmaceuticals and speciality chemicals are just a few examples of the types of hazardous goods that are shipped compliantly on a daily basis using Air Sea USA packaging.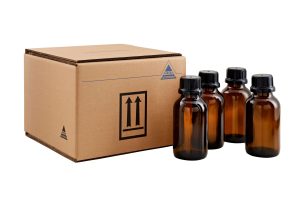 Featuring on the stand are 4G fibreboard boxes, these have been approved for use with a variety of specific inner packaging including plastic, glass and tinplate, sizes start from a 2kg sample pack which is ideal for those working with the likes of chemical samples and raw materials.
Air Sea USA's 4GV range is ideal for those shippers who require more flexibility and wish to choose their own suitable non-specific inners, the range allows up to a maximum gross package weight of 65kg and a suitable for a wide range of Hazard Classes.
For more robust packaging, the plywood 4DV range is perfect for shippers who require extra durability and larger weight capacity from their UN packaging, ideal for Lithium batteries and larger/heavier shipments of dangerous goods. The 4DV plywood box range combines flexibility, strength and durability allowing for the use of a variety of inner containers and has an impressive maximum gross weight of 280kg. They come flat pack and are easily assembled without the need for nails by using the innovative integrated locking tab system. Additionally they are three times lighter than a traditional wooden box of the same size, reducing shipping costs.
When shipping smaller quantities of hazardous goods, Limited Quantity packaging is often the preferred option. The new Limited Quantity range now includes capability tested packaging for those customers who wish to have pre tested and approved LQ packaging. Air Sea USA also provides custom made packaging including bespoke Limited and Excepted quantity packaging tailored specifically to the customers' requirements, all packaging produced are fully compliant with the required dangerous goods regulations.
Air Sea USA also stocks single packaging including steel drums and plastic jerricans and inner packaging. It also provides custom made packaging specifically designed to the customers' requirements.
Visit us at The Speciality & Agro Chemicals Show, Stand 111
Register your attendance at the show here.