What are Biodegradable Peanuts?
These white odourless peanuts are a light-weight and dust-free alternative to vermiculite and provide high level shock and impact protection to inner packagings during transport.
The loose fill is made from gm free corn starch, is compostable and provides better all round protection than polystyrene loose fill. You can read more about the benefits of biodegradable peanuts here.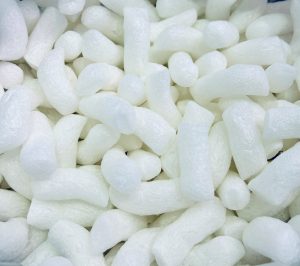 Will Biodegradable Peanuts used in 4GV Eco range dissolve in water?
The biodegradable peanuts used in the ECO range of 4GV will dissolve in water, this is a key property in it being able to perform as a biodegradable product.
Users of 4GV Eco Range code 1014 & code 1015 packaging should be aware that the cushioning material will remain fit for purpose under normal conditions of transport and if packed in the manner in which it has been approved.
Leakage from contents should be a consideration in the transport of dangerous goods, ensure inner packaging's are closed correctly and there is sufficient absorbent and containment which can be supplied for this packaging.
If there is concern over the leakage of an inner packaging this should be addressed to ensure there is no scope for this to happen, using secondary means of closure should be considered depending on the relevant packing instructions.
The 4GV Eco Range combination packaging has been UN approved and is a reliable environmentally friendly package that if used correctly will perform as intended.