Hazardous goods packaging supplier Air Sea USA has introduced QR codes on their newly branded packaging, which when scanned provides shippers direct access to a comprehensive set of assembly instructions to aid shippers assemble the packaging compliantly during the packing process.
The new packaging has been rebranded to produce a cleaner look whilst creating more space for labelling, the paper assembly sheets have been replaced with innovative electronic assembly information, accessible via an individual QR code printed on the packaging.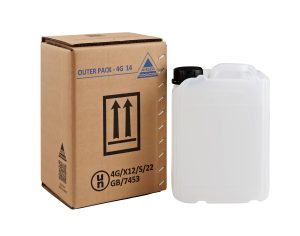 Laurence Richards, Product Manager at Air Sea USA comments. "We are passionate about our contribution to the safe shipment of Hazardous goods. Our packaging is manufactured to the highest standards and is compliant with air, sea and road regulations, however correct assembly is fundamental to its performance. UN packaging must be assembled in accordance with the manufacturer's assembly instructions, use in any other way will render it invalid. To ensure this vital information is to hand when the packaging is assembled, we have introduced QR codes on the packaging itself, the shipper simply scans the QR code and follows the assembly instructions, enabling the packaging to be correctly assembled".
The new QR codes provide additional assembly information including step by step assembly instructions, assembly videos, package contents, weight restrictions, FAQs and more. This information aims to simplify the packing process for those organisations across a variety of industries who use Air Sea USA' UN packaging to ship Hazmat, such as; biomedical, pharmaceutical, veterinary, petrochemical, food and drink industries.
The packaging's test certificates remain unchanged as the specification of the packaging itself has not been altered and performs to the same performance standards prior to the newly branded packaging. Simply, the branding on the boxes have been updated and improved to provide more space for shippers to add the necessary labelling, whilst the removal of the paper instructions reduces waste and provides instant access to comprehensive assembly instructions via QR codes. The introduction of electronic assembly instructions accessible from the packaging itself, eliminates the risk of paper assembly sheets being misplaced and not reaching the end user responsible for assembling the packaging compliantly. The QR code placement means the person assembling the packaging will always have the instructions to hand.
Not only does Air Sea USA range of 4GV, 4G, 4DV and Infectious Substance packaging include the new QR codes, QR codes are also included on non–UN packaging such as the Temperature Control Range, which can be used to ship non-hazardous goods items such as food produce requiring a temperature-controlled environment, as well as hazardous goods when used as an overpack.
For help or more information on Hazardous Goods Packaging please call Air Sea USA: Tel 001 412 308 5888 or Email us@airseadg.com or visit airseadg.com