Dangerous Goods Packaging Manufacturer Air Sea USA has developed a new range of Limited Quantity packaging which includes capability tested fibreboard boxes.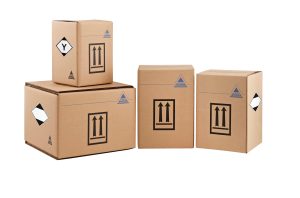 Limited Quantities are dangerous goods that, when presented in smaller quantities, have a reduced risk of harm to people, animals, property or the environment. This reduced risk allows for limited quantity shipments to be sent without extensively approved UN packaging.
UN approved packaging has very specific requirements for testing, approval, manufacturing consistency, conditions of use and preparation of the packaging. Limited Quantity packaging is less restrictive, but it does still have to meet certain criteria which can vary depending upon the mode of transport used.
A variety of LQ packaging available.
Limited Quantity packaging must consist of inner packaging packed inside suitable outer packaging, with the most common type being a 4G Fibreboard box. All of Air Sea USA Limited Quantities packaging meets the construction requirements of 6.1.4 of the UN Model Regulations as a minimum. The capability range has undergone additional capability testing with specific inner types providing a complete off the shelf solution.
Air Sea USA's Limited Quantities packaging solutions consists of:
4G box only range which are suitable for a variety of inner types.
Or for a complete solution with proven capability performance you can select the 4G boxes including stabilisers which are suitable for specific inner types.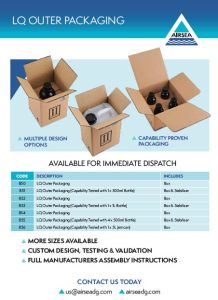 If alternative sized Limited Quantities packaging is required, Air Sea USA offer custom made packaging, they can design, test, validate and manufacture custom solutions tailored to suit the customer's specific needs.
If you require any assistance choosing the right LQ packaging or for more information on LQ packaging requirements contact Air Sea USA.