Air Sea USA is exhibiting at the International Conference on Emerging Infectious Diseases (ICEID) where they will showcase their Hazardous Goods Packaging range at booth 59.
For those with a need for fully certified UN approved packaging compliant with air, sea and road dangerous goods regulations, Air Sea USA will be on hand to provide guidance on your hazmat packaging requirements.  Infectious substances, biological substance and pharmaceuticals are just a few examples of the types of hazardous goods that are shipped compliantly on a daily basis using Air Sea USA packaging.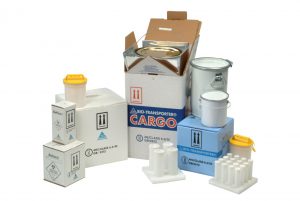 Catering for the biomedical industry, Air Sea USA supply Infectious Substances Packaging for Category A substances (UN2900/UN2814) and Category B Biological Substances (UN3373). UN approved packaging for shipping Category A infectious substances, has capacities of 50ml to 12L, drop tested to 9 metres, are water resistant and are compliant with PI620. Category B range includes a postal pack which is fully compliant with PI650, comes fully assembled, pre-printed and it's designed to fit through standard letter boxes making it suitable to be shipped using US postal services providing low delivery costs. For those requiring temperature control there is a range of Thermal Control packaging that can be used in-conjunction with a range of Infectious Substance packaging.
Air Sea USA also provides custom made packaging specifically designed to the customers' requirements, all packaging produced are fully compliant with the required dangerous goods regulations.
Visit us at booth 59, International Conference on Emerging Infectious Diseases 7th – 10th August, Atlanta, Georgia, 2022
Register your attendance at ICEID here.